Director General Liu Xin meets with the delegation led by French Consul-General in Chengdu Bruno Bisson
On May 19, Liu Xin, Director General of the Sichuan Provincial Department of Commerce, met with the delegation led by Bruno Bisson, French Consul-General in Chengdu.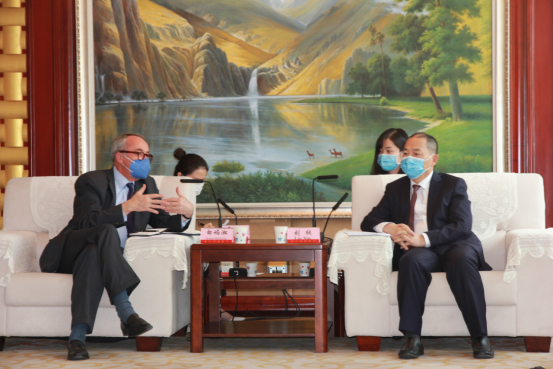 The two sides conducted in-depth exchanges on a wide range of topics such as Sichuan's phased achievements in COVID-19 prevention and control and relevant countermeasures, the Sino-French Chengdu Ecological Park Construction Project and relevant information, and the development opportunities brought about by the construction of the Chengdu-Chongqing economic circle. According to Director General Liu Xin, France has rich experience in the development of service industries, so Sichuan and France have great potential for cooperation in health care, tourism, education, culture and service trade. Director Liu Xin said. He also hoped that French enterprises would maintain their confidence in investing and running business in Sichuan, and the two sides would continue to promote exchanges and cooperation in the above-mentioned related fields.
Heads of the Division of Trade Development, the Industry Division, the International Office and the Service Trade Division also attended the meeting.
---